MI iGaming and Sports Betting Operators Announce Revenue of $210.4 Million for September
122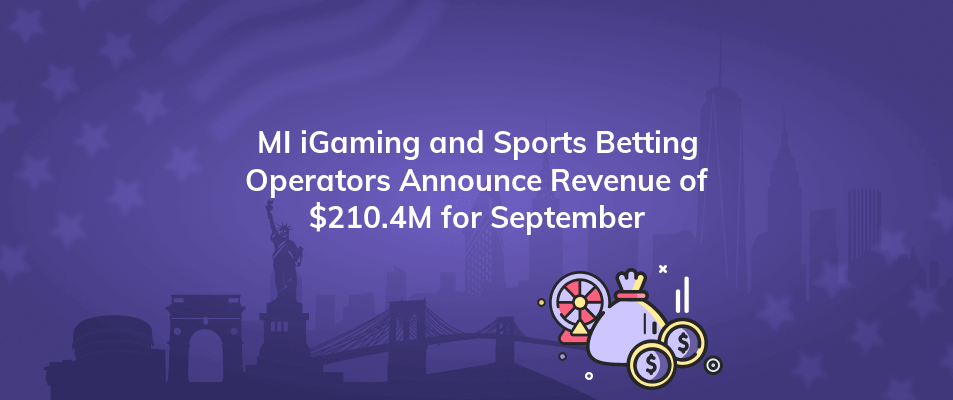 According to the MGCB's recent report, in September, Michigan's commercial and tribal operators reported gross earnings from sports betting and online gambling (iGaming) totaling $210.4 million. Gross revenues saw a 20% increase over August's figures.
Sports betting gross revenues reached $44.0 million in September while MI legal casinos online gross receipts reached $166.4 million. Sports betting generated $23.2 million in gross revenue in August 2023, while iGaming brought in $152.2 million.
Including $149.8 million from iGaming and $18.7 million from online sports betting, the combined total adjusted gross receipts (AGR) for iGaming and online sports betting in September amounted to $168.5 million. This is a 9.2% and 17.8% increase, respectively, from August 2023. Sports betting had a decline of 31.1% while iGaming saw an increase of 29.3% in income from September 2022's reported figures.
With a total handle of $457.7 million, online sports betting has seen a $239.2 million increase from the $218.5 million handle in August 2023.
The operators reported paying the State of Michigan $32.6 million in taxes and payments in September, which included:
$31.3 million in fees and taxes from online gambling;
$1.3 million in fees and taxes from online sports betting.
The three Detroit casinos have disclosed that they have paid the City of Detroit $7.97 million in wagering taxes and municipal services fees in August. This figure includes:
$7.5 million in fees and taxes for online gaming;
$470,071 in fees and taxes for online sports betting.