Arizona Laws Regulating Gambling Overview: From 1912 till Today
1K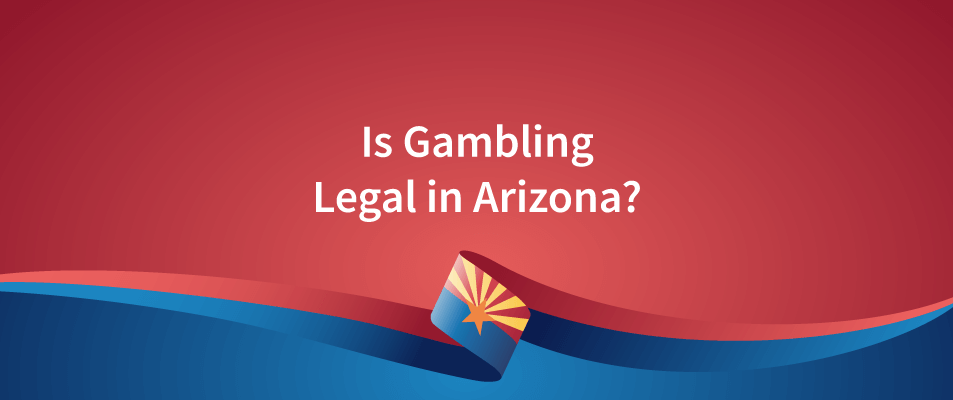 Those wondering whether gambling is legal in Arizona may be happy to know the answer is 'yes, but not entirely.' Certain types of gambling, such as horse racing and tribal casinos, have been operating in Arizona for decades.
In 2021, gambling laws in Arizona took a progressive turn as the state modernized tribal gaming to allow Class III casino games, including casino staples such as roulette, craps, baccarat, and more.
In addition to the introduction of Class III casino games, the state also made provisions for 20 online and 20 retail sports betting licenses, which were split between Arizona's professional sports teams and recognized tribal casinos.
Let's dive deeper into the peculiarities of the gambling law in the Grand Canyon State. For reference, the minimum Arizona gambling age is 21 for all Class III tribal casinos in the state.
What Types of Gambling are Legal in Arizona?
Arizona gambling laws have slowly progressed since the state's formation and subsequent banning of all forms of gambling in 1912, with pretty much everything on offer if you're willing to drive to your nearest tribal casino.
How is gambling defined in AZ?
Arizona legislation has a pretty strict definition of what they deem to be gambling, but the general definition of gambling in the context of casino gambling and sports betting is that it:
Involves a device, game, or contest, such as a slot machine or football game;
The outcome is not in the control of any person other than the player;
Prizes are not offered as a lure; rules and prizes must be made reasonably clear.
It's important that the definition of gambling is clear, as gambling must be regulated in accordance with the law, and all federal, state, and local taxes must be paid in connection with gambling.
Is land-based tribal gambling legal in AZ?
Coming from humble yet controversial beginnings after several tribes began housing slots in their casinos in the early 90s, there are now 24 casinos in the state which legally carry Class III casino games.
The latest major shift which allowed these new game and sports betting opportunities for casinos came in 2021, although there has been steady progress since the government first made agreements (Compacts) with 16 tribes between '92 and '94.
Which casino games are legal in AZ?
As there are 24 casinos in Arizona with Class III licenses, there are a plethora of land-based casino games available in the state.
These casinos offer Las Vegas-style gaming, with slot games, blackjack, craps, roulette, and pretty much every other casino staple a player may be interested in.
Does AZ have a state lottery?
The Arizona Lottery was founded to aid various public initiatives in 1981 and has been running ever since.
Interestingly, the lottery was used as an argument for the first tribal casinos to house their first slot machines. This was due to the fact that in 1988, US Congress passed an Act allowing Indian reservations to run gaming activities if such activities were being run off-reservation.
Arizona Gambling Regulatory Bodies and Documents
The Arizona Department of Gaming (ADG) is the regulatory body responsible for all gambling regulations within the state. This includes indirect regulation of tribal gaming dictated through the Amended Tribal-State Gaming Compacts 2021.
That means while the state doesn't directly regulate tribal casinos, the ADG is still responsible for enforcing the regulations and requirements set out in the Amended Tribal-State Gaming Compacts, the current gambling agreement to which tribes must comply.
Overall, the ADG is responsible for providing gambling licenses, licensing infrastructure and frameworks, taxation, and enforcing all of the above.
The current Compact, which was signed into law in 2021, allows for Class III gaming for 24 tribes within the state, which essentially allows for Vegas-style gambling and online sports betting. While this Compact is much more progressive than any other Compact signed into law, various tribes are in negotiations for further amendments to the Compact.
Is Online Gambling Legal in Arizona?
Since the Amended Tribal-State Gaming Compacts 2021 were signed into law by Governor Doug Ducey in 2021, Arizona online gambling laws have allowed online gambling in the form of sports betting.
There aren't really any public discussions on the legalization of online casino gambling in The Grand Canyon State, but there are some interesting arguments to be made that fully-fledged online gaming might be on the horizon.
The first is that the current Compacts, amended last in 2021, made huge strides in the progress of gambling in the state. Not only did they allow for Class III casino games, but they also made way for a huge market of online sports betting and fantasy sports gambling.
Additionally, the tribes are still in negotiations to try to amend AZ gambling laws for further freedoms in the way gambling is regulated on their reservations, with the next logical step being the legalization of online gaming.
If and when fully-fledged AZ online gambling is legalized, it will come under the regulation of the ADG.
Responsible Gambling in Arizona
The ADG has guidelines in place to promote safe and responsible play across the board, with programs in place for those who are struggling with gambling addiction. If you or someone you know is struggling with problem gambling, you may wish to contact a professional body such as Arizona's Council on Problem Gambling, the ADG, or consider applying to the state's self-exclusion list.
The ADG and Self-Exclusion
The ADG is chiefly responsible for regulating and providing problem gambling help for people in Arizona. One of the ADG's primary problem gambling initiatives is the self-exclusion program, which allows a player to ban themself from all gambling services and privileges at all Class III tribal gaming facilities within Arizona.
The procedure is relatively simple but does require accurate details to be provided and notarized. The self-exclusion process is permanent and irrevocable, and no procedure currently exists to remove oneself from the list.
Tribal Casinos and the Responsible Gambling Agenda
Part of the tax revenue collected and deposited in the Arizona Benefits Fund goes towards responsible gaming programs such as Get To Know Gaming (G2KG).
Tribes must have an established process for advising players about the state's self-exclusion list and how to enroll in it. This should be made clear with signage at entrances and exits, and the minimum AZ gambling age of 21 must be enforced and made clear.
In addition, tribes can't serve complimentary alcoholic beverages and may not advertise gambling to minors or target anyone on the state's self-exclusion list.
Other Problem Gambling Help
There are other services one can use to help control gambling issues.
The Everi STeP program excludes individuals from over 1,000 ATMs at gambling locations across the nation.
Next, Gamblock will prevent access to internet gambling sites, including sports betting sites in Arizona.
Finally, The Arizona Council on Compulsive Gambling is a nonprofit charity dedicated to providing information and education on problem gambling issues.
Legal Gambling Timeline in Arizona
The legalization of gambling in Arizona has been a slow burn, but progress is steadily being made. So with that, here are the most important dates in the history of Arizona gambling:
1912
Arizona becomes a state and subsequently bans all forms of gambling.
1959
In-person horse betting is legalized and regulated.
1981
The Arizona state lottery is established, with proceeds going to various initiatives to benefit the public.
1988
The US Congress passes the Indian Gaming Regulatory Act, giving greater agency to Indian Tribes throughout the US. The act allows tribes to run gambling activities on their reservations if the state already has such activities ongoing off-reservation.
1992
The National Indian Gaming Commission (NIGC) clarified that a tribe must have a Compact before operating slot machines. Many tribes were already operating before this date, although after the rules were announced by the NIGC, the FBI raided five Indian casinos, seizing slot machines.
1994
The state finished issuing the first 16 Compacts to allow tribal casinos to operate slot machines legally.
2021
Governor Doug Ducey signed the Amended Tribal-State Gaming Compacts into law, allowing for Class III casino games, retail and online sports betting, and fantasy sports betting.
Our Favorite Arizona Casinos
Are you looking for somewhere exciting to play in Arizona? With a worthy selection of Class III casinos to choose from that have everything from blackjack to bandits, here are our top five casinos in The Grand Canyon State.
Talking Stick Resort Casino
The 240,000-square-foot behemoth casino in Scottsdale is sure to tickle your fancy, with over 800 slot machines, 50 table games, and on-site live poker tournaments with prize pools topping a total of $1,000,000 every August. In addition, guests will find a range of bars and eateries, two golf courses, spas, swimming pools & 496 hotel rooms.
Harrah's Ak-chin Casino
Home to over 1,100 slots, 23 table games, and six poker tables in their 40,000-square-foot casino, Harrah's Ak-chin is the place for gaming and relaxation in Maricopa. Those looking to enjoy some time away from the gaming floor will find four restaurants, a spa, a nightlife entertainment center, and a massive hotel with 500 guestrooms; there truly is something for everyone!
Casino Del Sol
Players can really stretch their legs in the 161,000-square-foot Casino Del Sol, based in Tucson. With the casino housing almost 1,000 slots, 20 table games, 13 poker tables, and a live bingo hall, the choice is all yours. Foodies will appreciate the selection of six restaurants, while everyone can enjoy top-notch entertainment in the resort's very own AVA Amphitheater while staying in one of 215 well-presented rooms.
Cliff Castle Casino
Those visiting Cliff Castle Casino will find over 650 slots to choose from, nine table games, and four poker tables, meaning Cliff Castle is the casino of choice for those around the Camp Verde area. Those staying for a while might be interested in the 122-room hotel or one of the eight bars and eateries located on the resort.
Twin Arrows Casino
If you're looking for something to do in Flagstaff, checking out the enormous 267,000-square-foot gaming space at Twin Arrows Casino could be a great shout. Situated on the casino floor are over 1,100 slot machines with stakes from one cent to $25, 18 table games, and 12 poker tables. In addition, guests can chill out in one of the 90 hotel rooms and suites and enjoy a selection of six restaurants and bars.
FAQ
Which forms of gambling are legal in Arizona?
Legal gambling operations within Arizona currently include a state lottery, charitable gambling, online keno, lottery draws, horse betting, 24 Class III casinos, retail and online sports betting, and fantasy sports.
How is Arizona gambling tax revenue allocated?
The state collects between 1% and 8% of the net win of all Class III casinos, which benefits the greater public. The state deposits 88% of tax revenue to the Arizona Benefits Fund, helping fund essential public services such as hospitals, schools, and problem gambling programs. The remaining 12% goes to various cities, towns, and counties for government services.
How many casinos are there in Arizona?
There are currently 24 Class III tribal casinos in the state of Arizona, which allow for Vegas-style gambling, including up to 1,400 slot machines, blackjack and roulette tables, and more.