Casinos in Detroit Report Total Monthly Revenue of $102.8 Million for October 2022
1.2K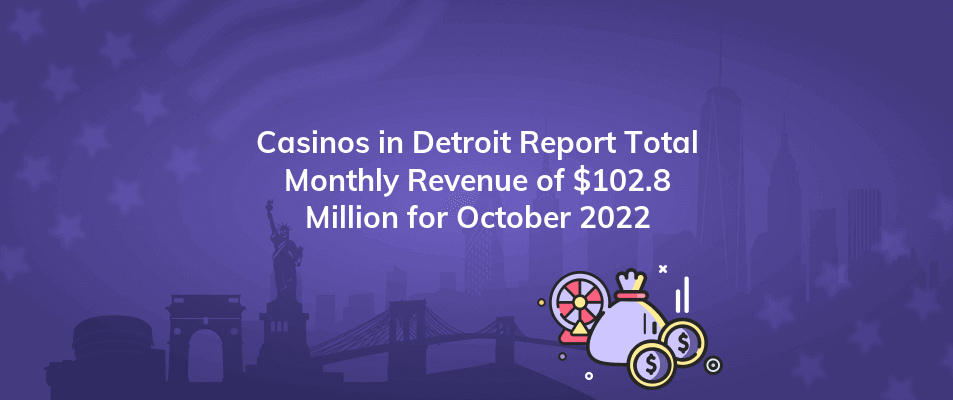 In October, the three casinos in Detroit recorded total monthly revenue of $102.8 million. $100.7 million was made through slots and table games, and $2.1 million from retail sportsbooks. Compared to the $114.1 million in sales reported for October of 2021, total revenue decreased by over 10%.
The share of three casinos in Detroit in October looked like this:
MGM held a 46% market share;
MotorCity held a 32% share;
Hollywood Casino at Greektown held 22%.
Revenue from Slots and Table Games
Revenue from slots and table games fell 9.6% from October 2021 figures. Additionally, revenue decreased by 0.1% when compared to September's statistics. In comparison to the same period last year, the gaming income from slots and table games at the three casinos fell by a tiny 0.3% in the first ten months of this year.
The monthly gaming revenue at Hollywood Casino at Greektown increased by a negligible 0.3% from October 2021 to $21.9 million. MGM's monthly gaming income decreased by 11.9% to $46.4 million while MotorCity Casino's revenue went down to $32.4 million (12.3%).
In contrast to the $9 million paid in the same month last year, the three casinos in Detroit paid $8.2 million to Michigan in gaming taxes in October.
The three casinos in Detroit stated they paid the City of Detroit $12.4 million in wagering taxes and payments on development agreements in October.
Revenue from Retail Sports Betting
QAGR decreased 19.4% from September revenues and 20.8% from October 2021 figures. The total handle was $23.5 million and the total gross receipts were $2.1 million.