Casinos in Detroit Generated $1.276 Billion in Revenue in 2022
1.2K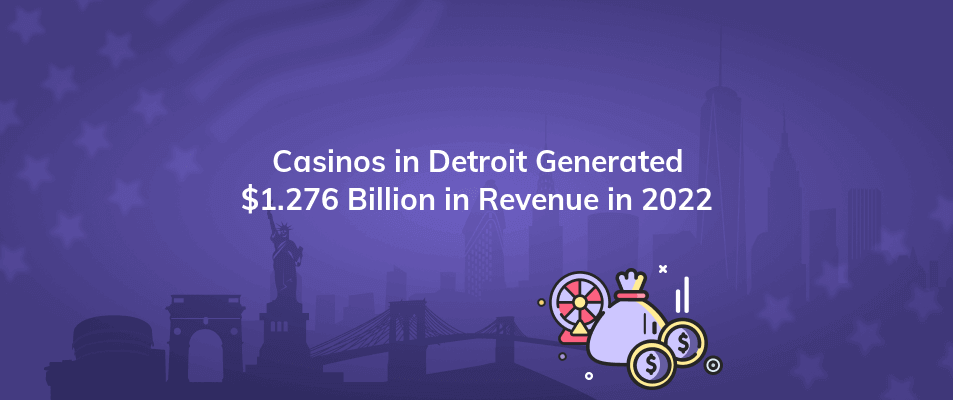 In 2022, Detroit's three casinos recorded $1.276 billion in annual revenue, the MGCB reports. Slot machines brought in $77% of total revenue ($983.7 million), followed by table games (21%, $273.3 million), and retail sportsbooks (2%, $18.8 million).
In contrast, the total revenue from casinos in 2021 was $1.294 billion.
2022's commercial land-based casinos market share looks like this:
MGM Grand Detroit had a 48% share of the market
MotorCity Casino had a 31% share of the market
Hollywood Casino at Greektown had a 21% share of the market
Table game and slots income fell 0.8% from the previous year to $1.26 billion. The earnings of MGM Grand Detroit went up to $600 million (an 8.3% increase). The revenue of MotorCity Casino fell to $396.5 million (a 9.5% decrease). The revenue of Hollywood Casino at Greektown went down to $260.5 million (a 5.1% decrease).
Detroit's three casinos paid the State of Michigan $101.8 million in wagering taxes on earnings from slot machines and table games in 2022 as opposed to $102.6 million in 2021.
In comparison to 2021's $160.8 million, the casinos of Detroit reported paying the City of Detroit $155.6 million in wagering taxes and development agreement payments on earnings from slot machines and table games throughout 2022.
In December, the casinos' combined monthly revenue was $109.9 million, down from $112.5 million in December 2021. Table games and slot machines brought in $108.3 million, while retail sports betting brought in $1.6 million.
Revenue from slots and table games in December 2022 fell 2.8% from that in December 2021. Comparing December's revenue to the $99.9 million recorded in November, there was an 8.4% increase.
Comparing December 2018 statistics to December 2021 figures, MGM's revenue decreased by 0.8% to $51 million. When compared to December 2021 figures, MotorCity's December revenue fell by 5.7% to $33 million while Hollywood Casino at Greektown's monthly revenue fell by 2.9% to $24.3 million.