Detroit Casinos Saw Decrease in March 2023 Revenue
949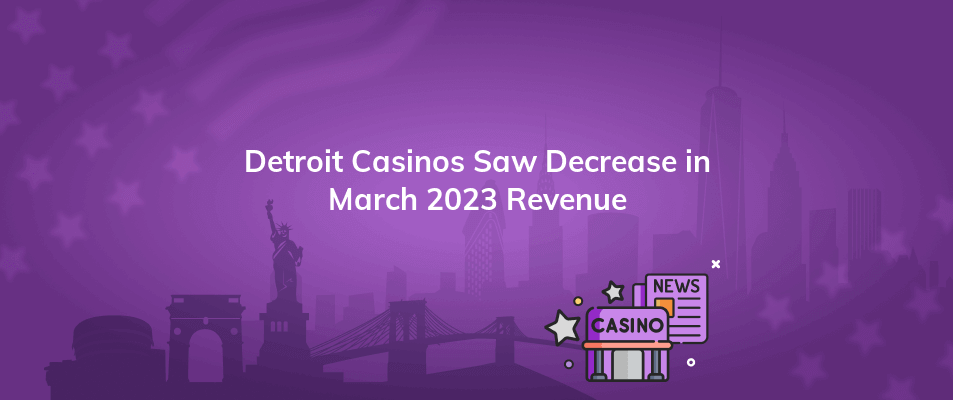 In March, Detroit's three casinos recorded total monthly revenue of $119.2 million. Table games and slot machines brought in $117.8 million, while retail sports betting brought in $1.4 million.
The casinos recorded total monthly revenue of $122.8 million in March 2022.
Income from Table Games and Slots in March
Revenue from slots and table games decreased 2.6% monthly from March 2022's $120.9 million total. When compared to February's performance of $105 million, revenue climbed 12.2%.
With $27.6 million in monthly gaming revenue, Hollywood Casino in Greektown recorded a 7.5% increase over March 2022. Monthly sales at MGM dipped 2.7% to $54.4 million, while sales at Motor City fell 9% to $35.8 million.
The casinos paid the State of Michigan $9.5 million in gaming taxes for the month of March as opposed to $9.8 million during the same time in 2022.
The City of Detroit received wagering taxes and development agreement payments totaling $14 million in March, according to Detroit's three casinos.
Q1 Revenue from Table Games and Slots
As compared to Q1 2022 figures of $315.5 million, the casinos' Q1 total revenue was $326.2 million, a 3.4% gain.
MGM reported gaming revenue results by property of $154.7 million, an increase of 2.5%;
MotorCity had a decline in revenue, $97.3 million, which is 0.9% from Q1 of 2022;
Hollywood Casino at Greektown reported gaming revenue of $74.2 million, an increase of 11.5%.
In comparison to the $25.6 million spent during the same period last year, the state got $26.4 million in gaming taxes during Q1.