Don't Regret the Bet Receives the Platinum dotCOMM Award
283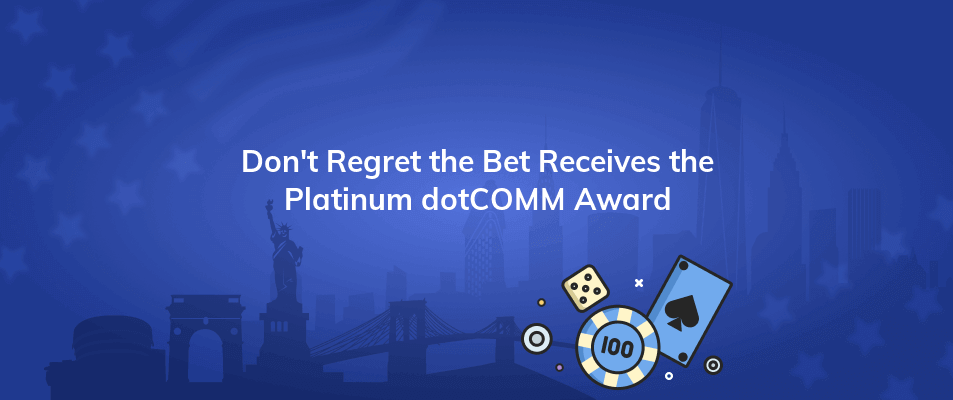 The Don't Regret the Bet integrated marketing campaign of the Michigan Gaming Control Board has gained additional international acclaim following the recent 2023 Platinum Viddy Award in August. This time, the MGCB and the public relations agency King Media have been recognized with a Platinum dotCOMM Award.
DotCOMM Awards, an international contest that was founded in 1994, recognizes excellence in web creativity and electronic communication. Only about 17% of the more than 2,500 items submitted this year from the US, Canada, and 32 other nations received Platinum recognition.
MGCB Executive Director Henry Williams stated that they were confident they could create a successful, identifiable, powerful responsible gaming message campaign from the start of their collaboration with King Media. 'Don't Regret the Bet' is just starting its ascent and is a brilliant example of what a great integrated marketing campaign looks like, as seen by its recent back-to-back platinum-level international award wins in less than two months. The MGCB staff is extremely grateful to Coleen King and her skilled team for putting in the work and collaborating with MGCB on this initiative to stop Michiganders from developing gaming addictions.
The Don't Regret the Bet integrated marketing campaign, which went into effect in March 2023, aimed to stop gambling issues in their tracks and lessen the number of Michigan residents who become seriously addicted to gaming. The MGCB and King Media worked together to create advertisements about responsible gaming that are being seen by Michigan residents on a variety of platforms, including streaming services and podcasts, digital billboards, point-of-sale video ads at gas stations, and broadcast TV and radio.