Operators in Michigan Report Combined 2022 Gross Revenues of $1.98 Billion
1.3K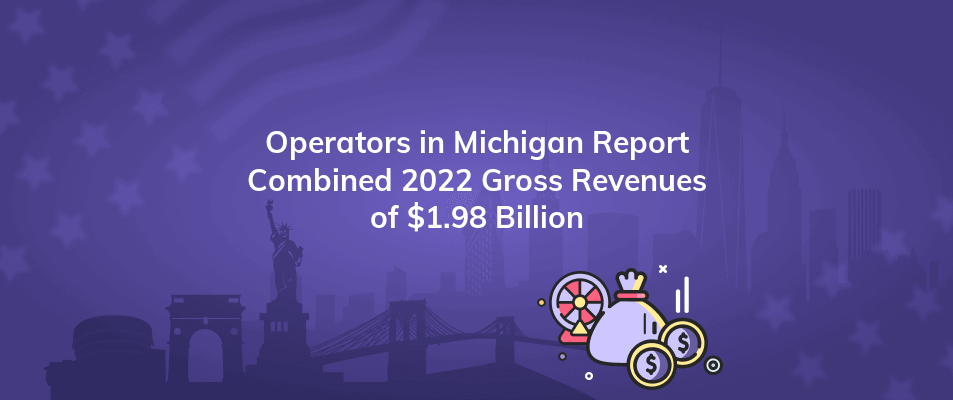 Operators of tribal and commercial online casinos and sportsbooks in Michigan reported total gross receipts of $1.98 billion in 2022, as reported by the Michigan Gaming Control Board on January 23. In comparison to the $1.4 billion in reported receipts for 2021, gross receipts went up by 41%. Online casino gambling brought in $1.58 billion in revenue, while online sports betting brought in $399.58 million.
Online sports betting and gambling together generated adjusted gross receipts of $1.65 billion in 2022, a 47.8% increase over the $1.1 billion in adjusted gross receipts reported in 2021. The statistics for 2022 included $219.58 million in adjusted gross sportsbook receipts and $1.43 billion in adjusted gross online gaming receipts.
The state of Michigan received $302.98 million in taxes and payments from the tribal and commercial operators in 2022, which included:
$289.24 million in state taxes and gaming-related payments
$13.74 million in state taxes and payments related to online sports betting
The three commercial operators from Detroit reported paying $84.57 million in fees for municipal services and wagering taxes to the City of Detroit over the course of the year, including $77.83 million in online fees and gaming taxes.
Commercial and tribal sports betting and online gaming providers reported combined gross receipts of $201.6 million in December, an 8.2% increase from the $186.27 million recorded in November.
In December, commercial and tribal operators reported combined total adjusted gross online gaming and adjusted gross sports betting receipts of $168.23 million. The total combined adjusted gross receipts in December 2021 amounted to $120.6 million, up nearly 40% from the previous month.
Online gambling revenue in December surpassed the previous monthly high of $145.43 million achieved in November by 5%, setting a new record for Michigan of $152.8 million.
In comparison to the $130.9 million reported in November, online gaming's adjusted gross revenues for the month of December came to $137.47 million. Online gambling adjusted gross revenues went up by 25.3% from the $109.7 million recorded in December 2021.
Online sports betting adjusted gross revenues from commercial and tribal operators were $30.76 million, a 19.9% increase from $25.66 million recorded in November. Online sports betting adjusted gross receipts increased by $19.8 million or 182% when compared to December 2021 numbers of $10.9 million.
The overall handle, which fell slightly by 0.3% to $478.7 million from the $480 million recorded in November, was the total handle.