Which Michigan Online Casinos Paid The Most Taxes?
2.1K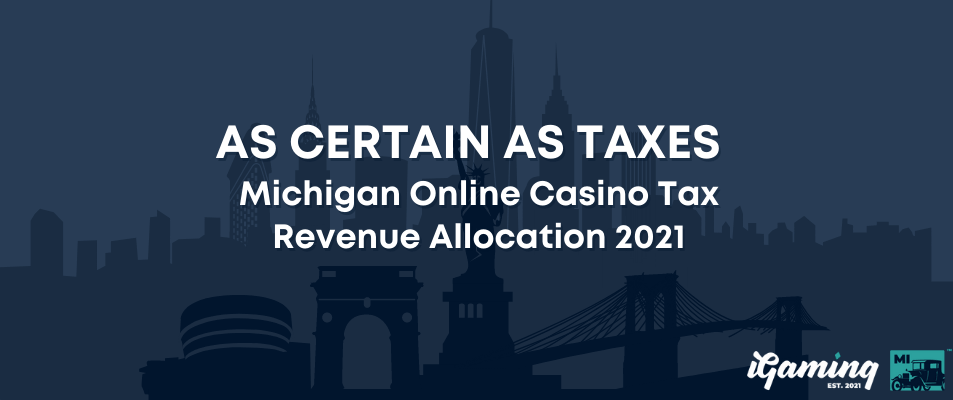 After the whole world stopped due to the COVID-19 pandemic, 2021 came in like a fresh breeze, with most of the restrictions being lifted and people coming back to normal life. That normal life came back to the Michigan online casinos as well, which altogether got more than $1b in revenue and paid an impressive amount in state and local taxes.
How Do Casino Revenue Taxes Work In Michigan?
In Michigan, casinos pay a 19% tax, with 8.1% going to the state and 10.9% going to the city. Unlike New Jersey, where all online casinos pay a 15% gross revenue tax, online gaming tax in Michigan is graduated and amounts to:
AGR <$4m: 20%
AGR $4m-$8m: 22%
AGR $8m-$10m: 24%
AGR $10m-$12m: 26%
AGR >$12m: 28%
In addition, Detroit commercial casinos pay a 1.25% municipal tax.
Casinos are not the only ones to pay gambling taxes in Michigan, by the way, as gambling winnings are taxed as well. Every player whose winnings exceed $5,000 is required to pay a flat 4.5% tax.
The Leaderboard of Michigan Casino Tax Payer
Among the 14 online casinos currently operating in Michigan, there are five with the most impressive tax amounts paid in 2021. This data has been retrieved from open sources and can differ from the actual one.
BetMGM – $62,186,393.00
DraftKings – $32,813,082.00
FanDuel – $27,508,264.00
BetRivers – 12,652,302.00
GoldenNugget – $8,400,002.00
BetMGM
The leader of the Michigan revenue tax ratings has brought $62,186,393.00 of taxes in 2021. December was the most successful month with $12,103,726.00 paid in taxes, and the smallest tax was paid in January — $1,707,829.00 only.
DraftKings
The second place on the leaderboard is taken by the famous DraftKings casino with its $32,813,082.00 of taxes in 2021 — almost half of the amount paid by BetMGM.
FanDuel
In 2021, FanDuel paid $27,508,264.00 in state and local taxes. Just like for the rest of the casinos, December 2021 was the most profitable month for FanDuel with $17,348,630.00 in revenue and $4,567,027.00 in taxes.
BetRivers
The honorable fourth place goes to BetRivers online casino with its $12,652,302.00 of taxes paid in 2021. The annual revenue of the casino amounted to $74,560,766.00.
GoldenNugget
Last but not least on the MI gambling taxpayers leaderboard is the GoldenNugget casino. In 2021, it got $50,559,889.00 in revenue and paid $8,400,002.00 in state and city taxes.
Where Does The Money Go?
Before iGaming became allowed and regulated in Michigan, there had been many talks and fears about the potential outcome of such a decision and its influence on the K-12 School Aid Fund — the fund where all the state gambling tax goes.
Previously, the state lottery was the main contributor to the School Aid Fund, and it was feared that the legalization of iGaming would decrease the lottery's revenue and thus its contribution to education in the state.
However, the state tax revenue neared $90m just six months after online gambling was allowed in Michigan, cutting off all the doubts about its negative financial prospects. The state gambling tax, in its turn, is allocated to the neighborhood and development programs, public safety and anti-gang programs, road improvements, and others.
Michigan's on Board
Gambling, online and offline, is an important source of taxes for the Michigan state. Most of those taxes goes to the School Aid Fund, while another large part is allocated to a compulsive gambling fund used to support programs at the Department of Health and Human Services.
Detroit casinos have contributed $2.2b to Michigan School Aid since 1999, and with introduction of online gambling in the state, this number is only going to rise. State lottery, at the same time, hasn't missed its popularity as much as it was feared and remains another important tax source for the School Aid Fund. In 2021, it contributed $1.419b, which is not much less than $1.179 billion in 2020 and even more than $1.070 billion in 2019, when online gambling hasn't been live in the state yet.