A $127.4 Million Increase In Michigan Betting And Gambling Revenue In March
2.2K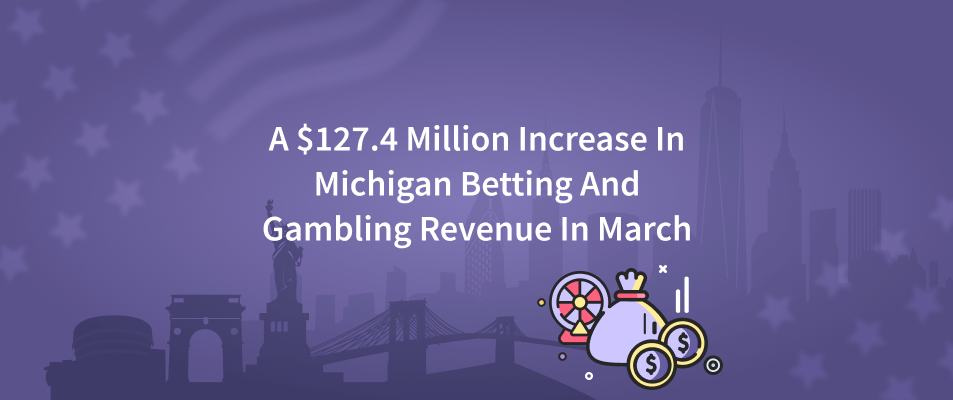 Thanks to betting on the National Collegiate Athletic Association basketball tournament, online betting and casino operators in Michigan pulled in $127.4 million in March, up 42.8 percent month over month in the second full month of online activity.
The majority of this revenue came from online casino gaming, which brought in $95.1 million, up 19.3 percent from February. Sports betting, on the other hand, took in $32.3 million, a 240.0 percent increase.
According to Richard S. Kalm – the MGCB executive director, the surge is mainly attributable to wagering on the NCAAbasketball competition. He further added that March Madness boosted sports betting handle,which went up 19.1 percent from February,while internet gaming grew in popularity, with monthly adjusted gross receipts increasing 18 percent from February.
"This resulted in tax and payment increases, resulting in additional financing for the City of Detroit, K-12 education, economic development, and tribal communities." After bonuses, internet casinos raked $88.7 million, and online betting brought in $19.0 million.
Operators paid the state of Michigan a total of $17.8 million in taxes, with $17.3 million from Michigan online casinos and $535,000 from sports betting. Furthermore, the state's 3 commercial casinos in Detroit paid an additional $5.2 million in taxes to the city.
Penn National Gaming's Greektown Casino, MotorCity Casino, and MGM Detroit each hauled in $113.8 million in land-based revenue, according to the MGCB.
Table games and slots pulled in $110.9 million, up 93.0% from March 2020, when casinos were closed for most of the month, and up 28.2% from the previous month. Revenue from retail sports betting was $3.0 million.
MGM (Michigan Gaming Control Board) took the lead in overall land-based revenue with $43.2 million, an increase of 80.6 percent. MotorCity came in second with $42.0 million, up 107.2 percent, while Greektown came in third with $25.6 million, up 93.7 percent.
With $1.2 million in overall retail sports betting revenue, MotorCity and its FanDuel Sportsbook took the lead. MGM came in second with $868,000 via its BetMGM sportsbook, while Greektown's Barstool sportsbook raked in $825,000.