The 'Don't Regret the Bet' Responsible Gaming Campaign by the MGCB and King Media Won the 2023 Platinum Viddy Award
179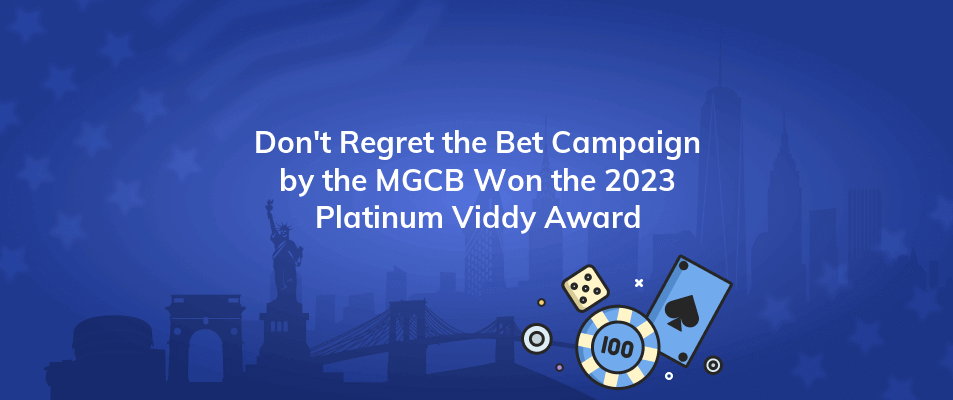 The Don't Regret the Bet campaign from the MGCB in collaboration with King Media, has been recognized with a 2023 Platinum Viddy Award. With submissions reviewed by the Association of Marketing and Communication Professionals, whose work serves as a standard for the industry, the award recognizes the brilliance of video in a digital age.
The Viddy Awards, which were established in 1994 and were originally known as the Videographer Awards, are among the most sought honors in the video business and honor the original work of communication and production specialists from all around the globe. More than 2,500 submissions total from around the U.S., Canada, and 17 other nations were submitted to the worldwide competition in 2023. Platinum Awards were granted to projects that the judges felt were produced, written, filmed, and/or edited in an excellent way; these top entries had obtained a score of 90 or more, out of a potential 100 points. Winners were chosen from hundreds of categories.
According to Henry Williams, executive director of the MGCB, getting recognition for the board's efforts to promote responsible gaming is not only a great honor but also a sign of its passion and commitment to doing so. He expressed his gratitude for King Media's cooperation with the agency, their efforts, and the skills of their staff, who have collaborated closely with MGCB to share best practices and develop original strategies as they work to protect players in the ever-evolving gaming industry landscape.