TwinSpires Sportsbook and Casino in Michigan Will Be Shutdown by September 6
1.7K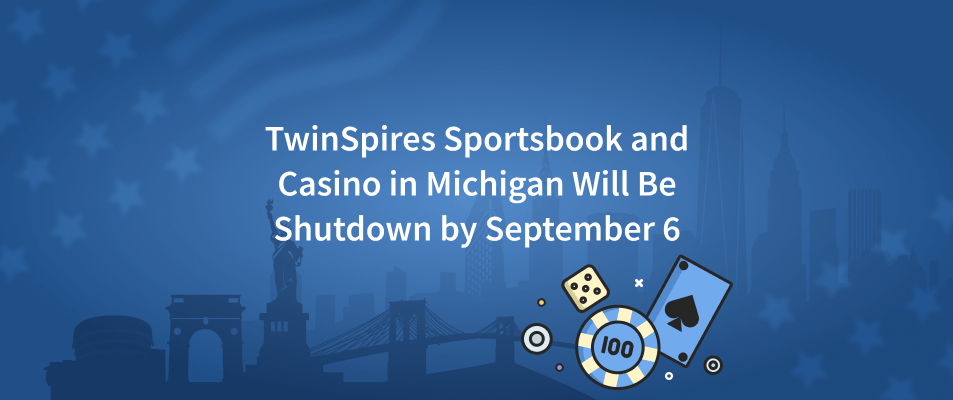 TwinSpires informed clients through email that its Michigan-based online casino and sportsbook will close on September 6, 2022.
Six months after TwinSpires' departure from the online gaming market had been announced, it provided the brand's online gambling division with an end date.
TwinSpires' Shutdown of Sportsbook and Casino
TwinSpires originally made the decision to shut down its sportsbook and online casino in February 2022. Later, it declared that effective on July 31, progressive jackpots would be discontinued. However, the TwinSpires horse racing website and the app will still function as normal.
TwinSpires has had difficulty expanding its market share in Michigan. With slightly over $27 million handled, its sportsbook ranked 10th among 15 operators.
With $15.3 million in cumulative revenue, TwinSpires is now the 13th-highest-earning operator on the list of all MI online casinos. TwinSpires was at the bottom of the list during the first part of 2022, with a low of under $400,000 in July.
Regarding the TwinSpires MI App
Customers of TwinSpires were informed via email that casino games would stop being operational after September 6 and that neither sports bets nor casino games would be accessible. On August 30, deposits will be disabled for all users. Customers can withdraw money from their accounts till October 6th.
All open bets will be settled as usual, and players will receive a check within 30 days of settlement. If you have any open bets, you will still be able to cash out on any of your eligible open bets.
Additionally, it is possible to cancel bets. You can reverse any future bets that will settle after September 6, 2022, by contacting Player Services at 877-774-7371.