King Media and the MGCB Win the 2023 Platinum MarCom Award for Their "Don't Regret the Bet" Responsible Gaming Campaign
152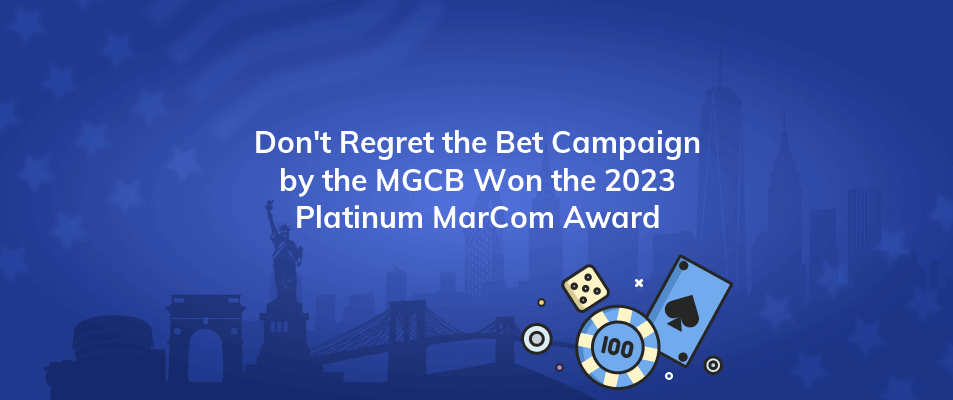 A 2023 Platinum MarCom Award has been given to the Michigan Gaming Control Board's Don't Regret the Bet integrated marketing campaign, which was created in association with King Media, a well-known public relations agency located in East Lansing.
The MarCom Awards, one of the biggest, most prestigious, and longest-running contests, honor exceptional success by creative professionals engaged in the conception, development, design, and manufacture of marketing and communication products and initiatives. More than 6,500 entries were submitted for the 2023 international creative competition by corporate marketing and communication departments, advertising agencies, public relations firms, design shops, production companies, and freelancers from all over the United States, Canada, and forty-three other countries.
Don't Regret the Bet is nothing short of exceptional when it comes to the ingenuity and innovation it offers to the advertising and marketing scene, especially considering its capacity to cut through the cacophony of widely distributed gambling advertisements, according to MGCB Executive Director Henry Williams. The fact that MarCom has recognized the campaign with this award serves to highlight its efficacy, which is fantastic news for Michigan's residents as it shows the Board's dedication to spreading memorable and successful messages about responsible gaming.
The Don't Regret the Bet program was introduced in March 2023 with the goal of preventing gambling addictions before they arise and lowering the number of Michigan residents who become seriously addicted to gaming. Together, the MGCB and King Media have created advertisements about responsible gaming that are being seen by MI residents all over the state on a variety of media, such as
Podcasts
Streaming services
Digital billboards
Point-of-sale video advertisements at gas stations
Broadcast TV
Radio
Social media