Casino Revenue in Detroit Fell by 8.8% Year-Over-Year
1.8K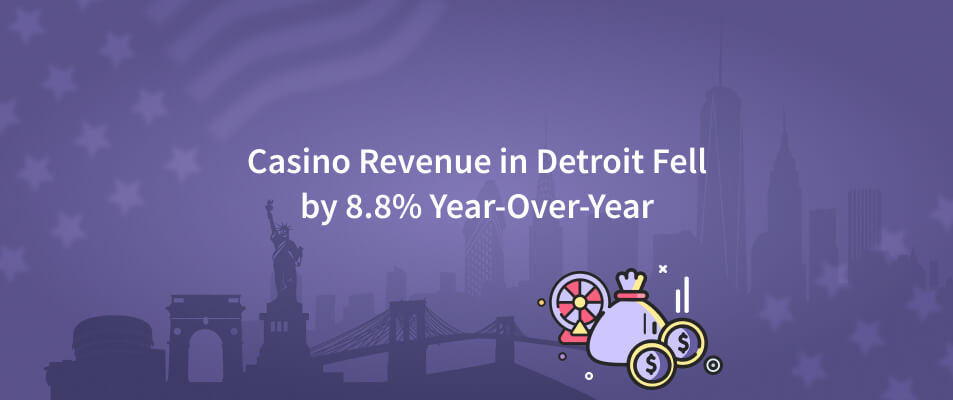 The three commercial casinos in Detroit, Michigan, reported total revenue of $98.6 million in June '22, an 8.8% decrease from June 2021.
The combined revenue from the MGM Grand Detroit, MotorCity Casino, and Penn National's Hollywood Casino in Greektown decreased from $108.1 million in June 2021 and $108.7 million in May 2022 by 9.3%.
With a 49% market share, MGM continued to lead Detroit, beating out Greektown (17%) and MotorCity (34%).
Table games and slot machines accounted for $98.2 million of the total income for the month, but this was 7.2% less than in June of the previous year.
MGM dominated this market segment with $48.3 million in sales, an increase of 4.3% year over year. However, whereas Greektown had a 26.6% decline in income to $16.4 million, MotorCity saw a 9.8% decline to $33.5 million.
The three casinos paid the City of Detroit $11.7 million in wagering taxes and development agreement payments and $8.0 million in gaming taxes.
In terms of retail sports betting, QAGR was a mere $448,703, which was a decline of 80.5% from $2.3 million in June 2021, when users wagered $22.4 million.
With $305,023 in QAGR, the Hollywood Casino in Greektown took first place in this market, followed by MotorCity with $165,931 and MGM with $22,251.
In June, the casinos paid $17,802 in gaming taxes as well as $21,758 in development agreement payments and wagering taxes to the City of Detroit.