PENN Entertainment's Stock Soars by 7.33% Amid ESPN Bet Launch Success
111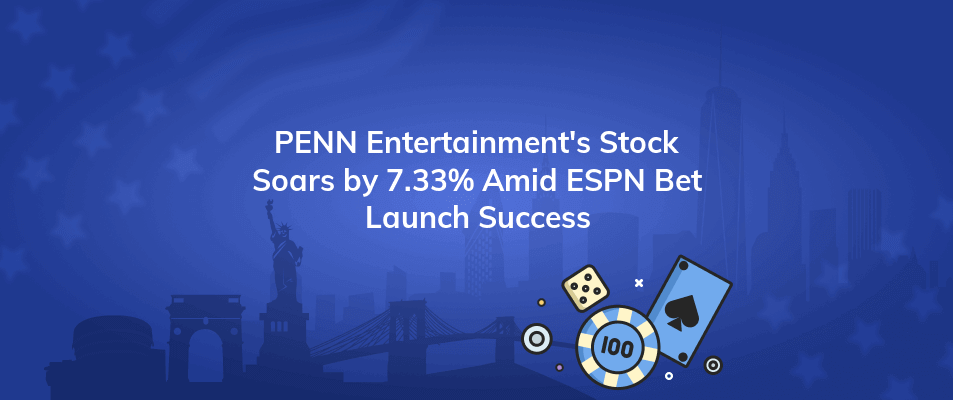 Penn Entertainment (NASDAQ: PENN) experienced a significant surge in its stock performance following the launch of the ESPN BET mobile sports wagering application and Hollywood Online Casino. The company becomes the newest legal Michigan casino app operator as of November 2023.
The ESPN BET initiative, a collaboration with Penn Entertainment, has been met with remarkable enthusiasm, evidenced by its top-ranking position in download activity and app store ratings. This venture, which debuted in 17 states, including Michigan, New Jersey, Pennsylvania, and West Virginia, marks a notable shift in Penn's strategy, integrating sports betting into its portfolio.
The analyst response to ESPN BET's success has been overwhelmingly positive. Bank of America analyst Shaun Kelley upgraded Penn's stock to "buy" and increased the price target. The stock's rise is attributed to the app's impressive download numbers and high user ratings. ESPN Bet's performance reflects a successful entry into the sports wagering market for Penn.
In late trading, Penn's stock experienced a significant increase, rising by 7.33%, with trading volumes notably exceeding the daily average.
The partnership between ESPN and Penn for ESPN BET signifies a major step for both entities. ESPN, part of Walt Disney, is expected to receive substantial financial benefits from this deal. The arrangement includes a $1.5 billion payment from Penn to Disney over ten years, along with $500 million in warrants for Disney to acquire shares in Penn. This deal reflects ESPN's commitment to sports wagering and Penn's strategic move to diversify its offerings.
Penn's evolution from a regional casino operator to a player in the online gaming space has been marked by significant developments, such as its partnership with Barstool Sports in January 2020. While regional casinos remain a core aspect of Penn's business, the foray into online gaming and sports betting presents new opportunities and challenges. Analysts note Penn's adaptability in a competitive market and potential for growth in the online gaming sector.